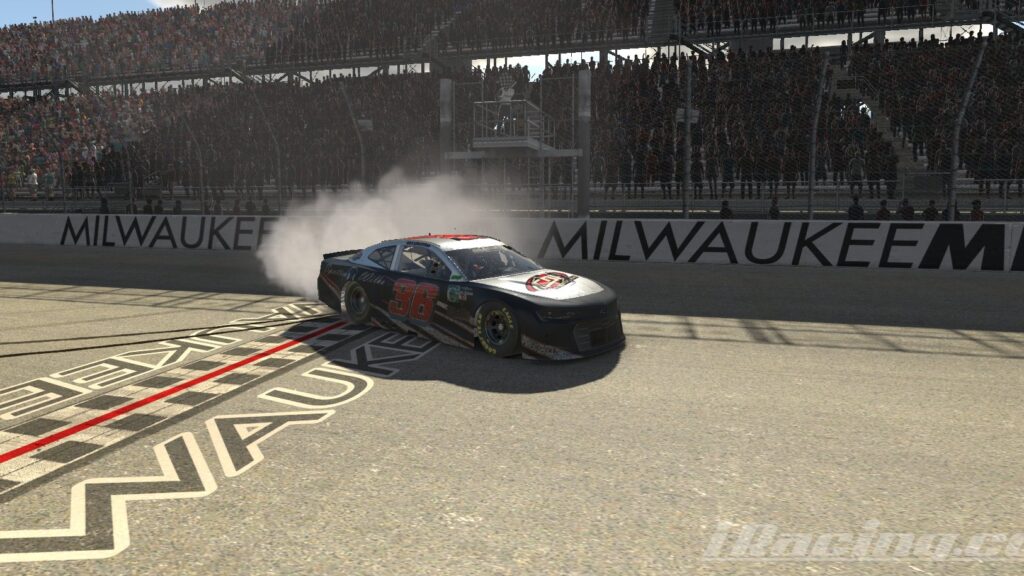 Wednesday night brought more Elite Racing history courtesy of Ryan Lutz. Lutz was able to sweep all three major series victories this week; the first time any driver has done so in history. A bit smaller field of 39 cars set out to end Lutz's impressive streak of victories. Drivers had to navigate the single lane Milwaukee Mile racetrack in order to get this done.
150 laps, 150 miles of bumper-to-bumper action started with pole sitter Tate Lightle leading the first 15 laps before Marcus Fruchtenicht made the pass for the lead. Fruchtenicht led 29 of 30 laps in the longest green flag run of the race. The rest of the race was a blood bath of cautions. Aside from the 30 lap run, 74 of 124 laps were run under caution, with 19 cautions total for the event.
The bottom lane proved to be the only lane able to make any headway. Long, slow corners with heavy braking made contact inevitable with drivers trying to make positions in the only way possible. If drivers were stuck outside on a restart, they would lose 5-6 spots before there was a hole to get to the bottom. Even drivers on fresher tires had trouble navigating their way around traffic, different from other tracks that fresh tires prove superior to slightly used. Only 5 drivers of 39 survived the contest without some sort of contact.
Fruchtenicht led a race high 78 laps before Lutz was able to take the lead for good on Lap 101 just before the caution flag flew. The longest green flag run for the final 50 laps was a grand total of three laps. Fruchtenicht was faster than Lutz, but never had the time to make the winning move. In the end, Lutz was able to sweep the week. Once dubbed a 4th best driver, Lutz has taken over as currently the most dominant driver in the league and looks to extend his win streak next week. Ryan Gavel, Gerald Campbell, Marcus Fruchtenicht, and Ethan Birrel rounded out the Top 5.
Mathieu Weeks, RC Enerson, and Lutz have all punched their ticket to the playoffs with wins so far this season. The JoinAPS.com Cup Series returns to action next Wednesday at Watkins Glen International at 8:30 pm edt on the Elite Racing Network.