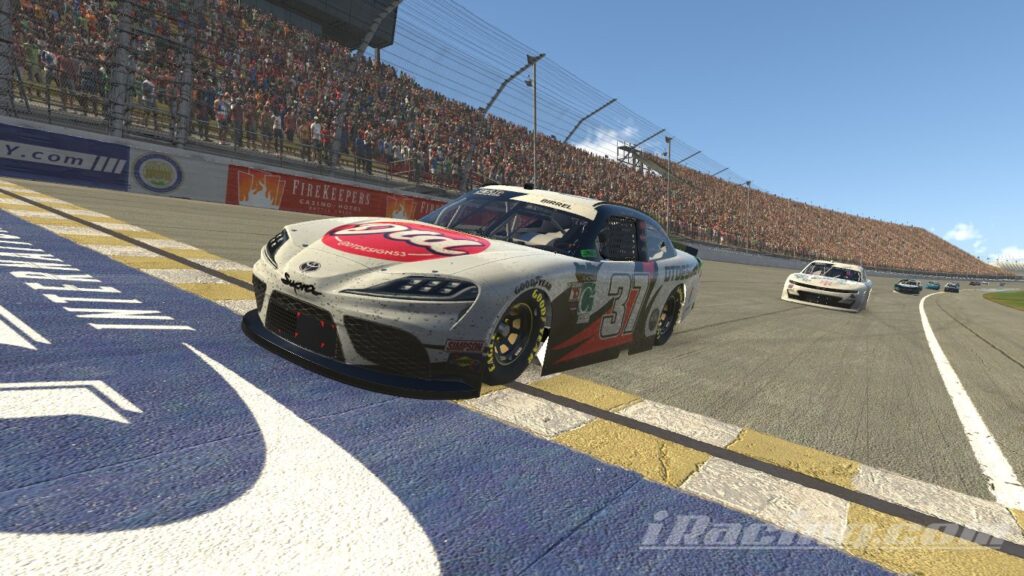 Monday night, the second round of the Elite SMRI Productions Grand National Series visited Michigan International Speedway for 80 laps of action.  46 cars battled for 43 starting spots.  Thomas Sherman put down a blazing lap to grab the top spot in qualifying and lock himself in the event.  Sherman was able to lead the first lap before RC Enerson took over the lead for the next 12 laps.  Enerson seemed to have pushed the car too hard, too quick as Tyler Foti took over the lead on Lap 14.  Foti, Ryan Lutz, and Ethan Birrel all battled for the lead until contact between Andrew Rucker and Marcus Fruchtenicht brought out the first caution of the night on Lap 29.  At the time, the caution changed fuel strategy immensely with the fuel window being 40-43 laps.
On the ensuing restart, Lutz was able to take the point position away from Foti for 9 laps until Birrel took back the lead on Lap 44. Draft was at a premium, not allowing the lead car to get out front by much and pulling the rest of the pack up to them. Birrel would hold the lead until the second and final caution on Lap 55. As previously mentioned, the first caution changed the pit strategy from a possible one stop race to splitting up the last 50 laps if the race continued green. For those that chose to split the run, the second caution wasn't one they wanted to see.
Birrel was able to hold the lead through the pit cycle under caution and took the green flag for the final 21 lap run. Lutz was able to lead a single lap four laps later however, Birrel took back control the next time by. The two duked it out for the rest of the race with Birrel holding off every attempt Lutz made to get by him for his first checkered flag of the season. Rounding out the top five were Chuck Sweeting, Mathieu Weeks, and Chris Wright. Wright was able to make up 14 spots from his starting spot to score the top 5 finish. It's worth noting there were a few drivers that navigated traffic to move up 20+ spots from start to finish. Among those drivers were Josh Robbin (p9), Vincent Isabella (p12), Joseph Causey (p13), and Nicholas Yeoman (p16).
The series visits Iowa Speedway next Monday at 7:30 pm edt on the Elite Racing Network.