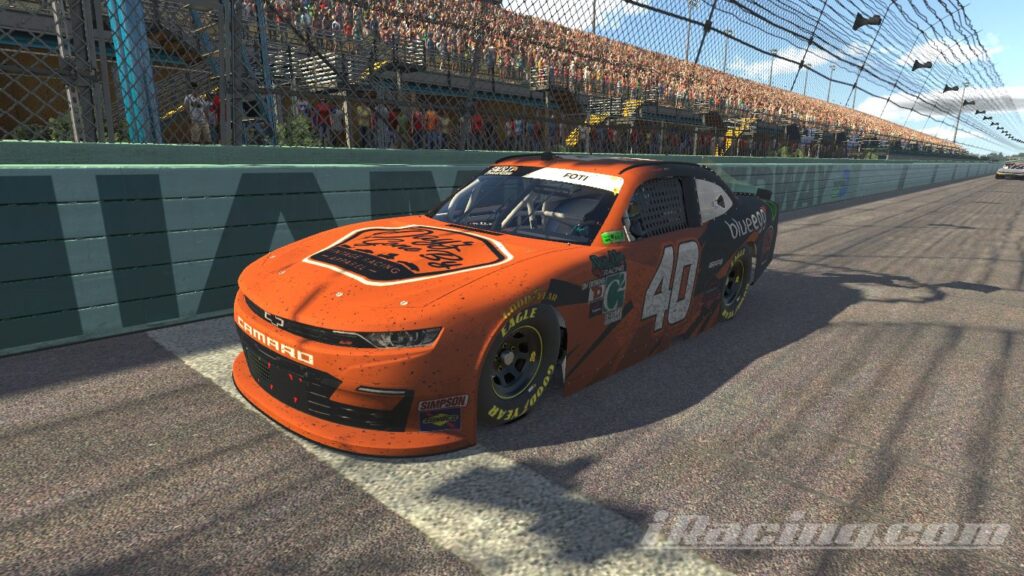 The SMRI Productions Grand National Series tackled Homestead Monday night for the Tilson Miami 150.  36 cars on the grid this week to take another stab at a playoff spot.  Chris Wright was able to grab the pole with a lap time of 34.064 seconds.  However, his time in the top spot wouldn't last long.
RC Enerson was able to get past Wright in Turn 2 before the first caution flag waived on Lap 1. Enerson kept the lead on the ensuing restart until Lap 15 when Damien Leininger got around the 50 car for the top spot. Leininger went on to lead the next 35 laps, increasing his gap to 3.5 seconds until the window opened for green flag stops. Unfortunately for him, an untimely caution flag waived as only half the field had chosen to come down pit road at the time.
Leininger led the field to green for the restart at Lap 59 restart and was able to hold the lead momentarily. Teammate Tyler Foti passed Leininger for the lead on Lap 68, stretching that lead out to 3 seconds to eventually take his second win of the season. Leininger dropped behind Enerson and Wright before making his way back to second as the checkered flag waived. Wright, Enerson, and David Tooker rounded out the Top 5. With the win, Foti retains his points lead heading into next week. Ethyn Reasoner impressively made his way up 19 positions from his 36th place starting spot to a 17th place finish for the Hard Charger of the race.
The series travels to Darlington next Monday at 7:30 pm edt on the Elite Racing Network.