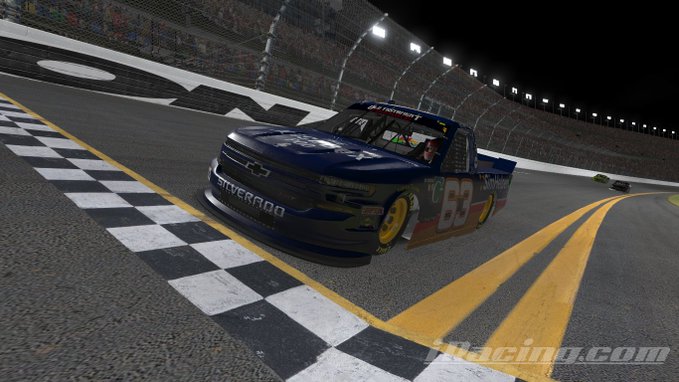 The Elite Old Testament Firearms Truck Series started their season with fireworks Sunday night in the opener at Daytona. 51 trucks entered with only 43 spots available to race. Alexander van de Sandt was able to put his truck on the pole to guarantee his spot in the main event. van de Sandt went on to dominate the early stages of the race leading 30 of the first 38 laps giving him the bonus point for leading the most laps. Things came unraveled for van de Sandt on lap 39 as Andrew Rucker got into his right rear kicking off the first "big one" to end stage 2.
The intensity turned up to start stage 3 with eight different leaders in the next 25 laps. Lap 66 saw Daniel Higgins get into Dustin Duerr's right front, starting off the carnage for the second "big one". The rest of the 32 laps remaining went caution free and double file until contact between Logan Shea and Ryan Barbieri strung the lead pack into two groups. The lead pack was 5 trucks strong with a second pack 6 trucks strong, but seven seconds behind.
The two groups would go single file for the next 11 laps until it was go time at the white flag. Ryan Lutz pulled out of line to make a move on leader Tyler Foti with Rish Khosla in tow. Contact up front sent Lutz into Foti and the top 5 scattered to avoid the trucks out of control. Emerging from the mess was Lutz with the lead out of turn 4 until he ran out of fuel 500 feet from the tri oval giving teammate Hank Steinmiller the victory in the Hopegivers International 250. Rounding out the top 5 was David Westergreen, Rish Khosla, and Brent Jones.
The series visits Auto Club Speedway next Sunday at 9 pm et on the Elite Racing Network.