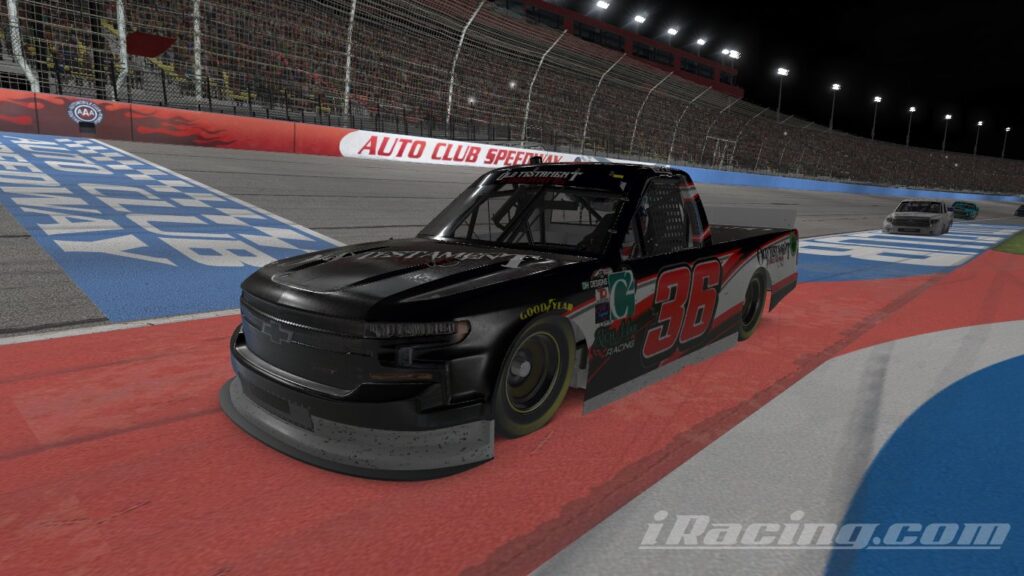 After a long week off the Old Testament Firearms Truck Series returned for 150 miles at Auto Club Speedway. A field of 41 trucks set out to put on a show. RC Enerson backed up his Cup Series pole with a fast time of 41.674, almost two tenths faster than second place Blake Barney. Enerson would go on to lead the first 11 laps of the 20 lap first stage. Ryan Lutz was able to run him down and take over the lead on Lap 12 and held on to win Stage 1.
A clean, yellow flag free first run gave way to the caution fest that would be the final 55 laps. Enerson was able to take the lead from Hank Steinmiller at the beginning of Stage 2. The next 20 laps would see 3 cautions and only four laps of green flag racing. Enerson gave up the stage win with two to go, as Lutz went on to sweep both stages.
The final stage was set to be a 35 lap dash to the end, but as the intensity picked up with time running out so did the contact. Alexander van de Sandt and Dustin Duerr used the end of Stage 2 for pit strategy and stayed out to gain track position. The move paid off for van de Sandt after two more cautions in the first 15 laps. There were enough green flag laps in the short run to justify coming down pit road to get 4 fresh tires putting van de Sandt back on the same strategy as the front runners. The final caution flag waived on Lap 60, leaving an 11 lap final sprint. Enerson led the field to green on Lap 65 but was only able to hold off Lutz for three more laps. Lutz was able to hold on for the win despite a late hard charge from Chuck Sweeting from his 37th place starting spot. Mathieu Weeks, Blake Barney, and Hank Steinmiller rounded out the Top 5.
The series visits North Wilkesboro next Sunday at 9:00 pm est on the Elite Racing Network.