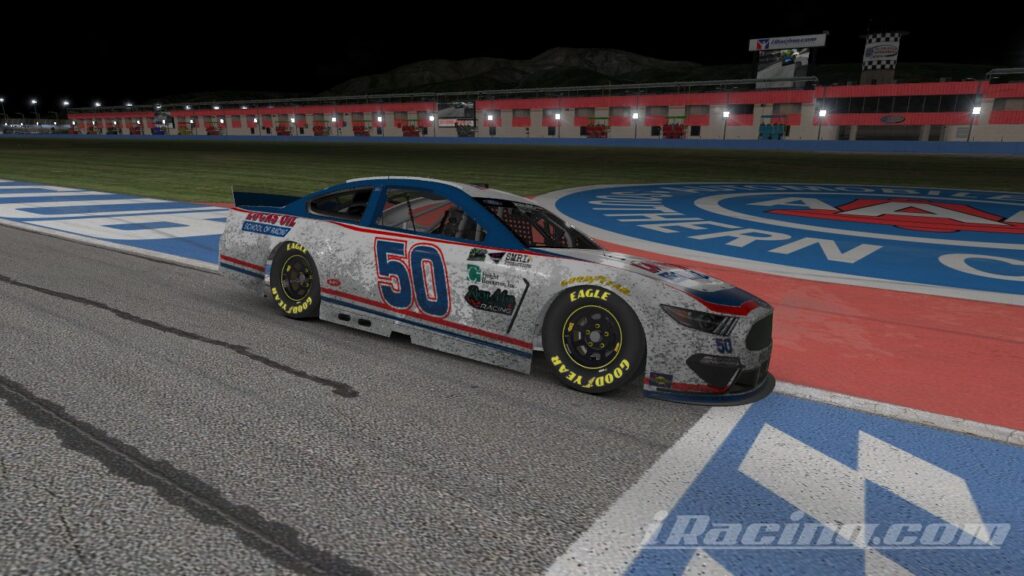 Round two of the JoinAPS.com Cup Series visited Auto Club Speedway Wednesday night for a 100 lap venture around the 2 mile track. A 44 car entry list vied for 43 spots to enter battle. RC Enerson put down the fast lap, a track record, to man the point with a lap time of 40.493 seconds. Enerson went on to dominate the first half of the race leading the first 34 laps before Ryan Lutz was able to clear him for the top spot. Lutz, running his first race of the season, led the next 7 laps before Chad Frankenfield took over the lead on Lap 42.
As the race wore on, the possibility of green flag pit stops became a reality. Frankenfield decided to split the run, pitting on lap 60. The split proved to be a bit early after the pit cycle with the 15 car only able to hold the lead for 9 more laps. Tyler Foti took the point on Lap 81 as the fresher tires started making their way to the front. A three wide situation on Lap 86 brought out the second caution of the night involving Frankenfield, Chuck Sweeting, and Marcus Fruchtenicht allowing the field to pit for tires and make a mad dash to the finish.
The intensity turned up on the restart at lap 91. Jared Rexing and Vincent Isabella led the field using a two tire and no tire strategy respectively for the final 10 lap sprint. Rexing was able to capitalize on the strategy while Isabella was not. Another three wide situation off turn 2 on the restart had Isabella, Lutz, Fruchtenicht, Sweeting, and Foti's cars all torn up. RC Enerson would take back the lead after the calamity and never look back. Another caution on Lap 96 would end the race with Enerson at the point having led a race high 40 laps and locking himself in the playoffs. David Tooker, Jared Rexing, Ryan Gavel, and Johnny Thomas rounded out the top 5. Thomas made a strong push from a 36th place starting spot to finish an impressive night.
The series visits The Milwaukee Mile next Wednesday at 8:30 pm est on the Elite Racing Network.